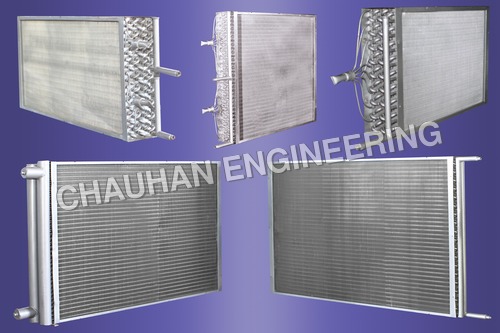 Coling Coils
Product Description
All Chauhan Engineering products are made of the finest materials and designed to combine form & function beautifully. Total responsibility from a single source to give you simpler, more reliable, more efficient... that is Chauhan Engineering.
Chauhan Engineering name has been founded on the highest business principle. Our sole intention is to supply each customer with a reliable product that most efficiently meets his needs. Chauhan Engineering is a fully staffed, capable of designing and manufacturing the largest Air-conditioning and Refrigeration Coils available. Our sophisticated factory uses the most advanced technology of production, thus the customer is provided with the highest quality product at the lowest cost. Chauhan Engineering reputation as a leader in the development of fine Refrigeration and
Air-conditioning product has been acquired by a highly qualified staff.This engineering knowledge and manufacturing experience in the industry guarantees
that each customer will receive an outstanding product.
l OUTSTANDING FEATURES:
The FIN making process is the heart of good Coil making. This you can achieve from Chauhan Engineering COILS. Chauhan Engineering has been equipped with modern technology and imported machinery's for manufacturing WAVE FINS for excellent heat transfer. MAFHH COILS are made all Aluminum and Copper, and corrosion resistant, so there is less chance of
leakage.
l TUBES BENDING:
Manual and Automatic function of hydraulic pressure control machinery's.
Beautiful outside appearance of bended tubes without any wrinkles for easy operation.
l ASSEMBLING:
Quality construction, dependable performance, high efficiency and expert craftsmanship.
l EXPANSION OF TUBES:
Bullet Expanders are used for expanding the coil tubes. This causes, the FINS collars, which are tightly locked to the Copper tubes to improve the coil thermal efficiency.
l BRAZING:
2% Silver used for brazing and strengthening the brazed joint for avoiding less chance leakage in its coils.
l TESTING:
All COILS are tested under water at 300-500 psi air pressure with a holding charge of nitrogen and sealed.
Contact Us
502/1, Phase - 4, Nr. Re - Union Company, Water Tank Road, GIDC, Naroda, Ahmedabad, Gujarat, 382330, India
Phone :+918037302974